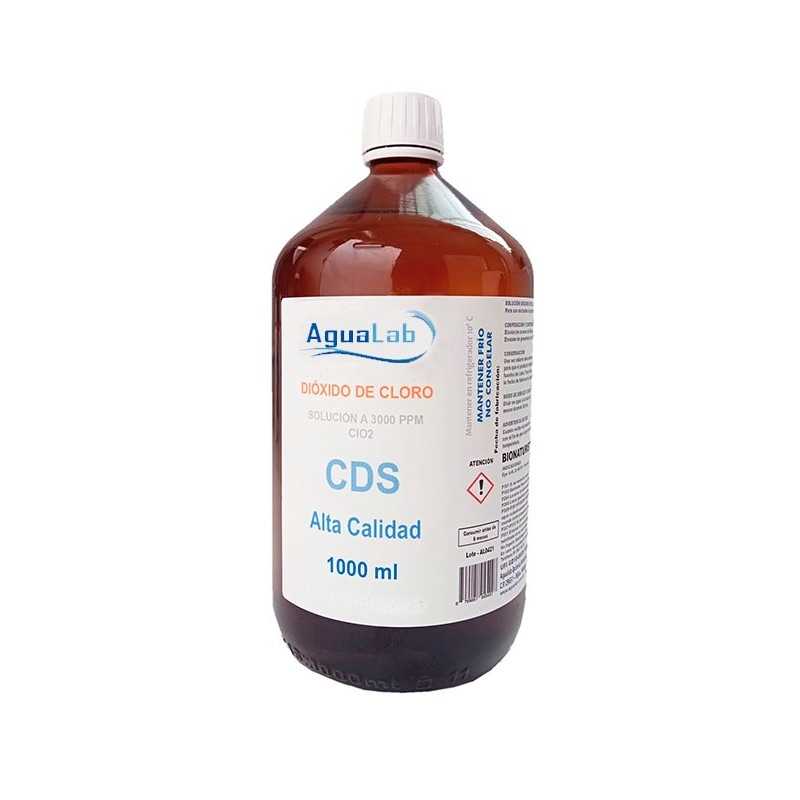  
Agualab CDS 1000 ml glass container
High quality Agualab Chlorine Dioxide (CDS) in 1 litre format. With a concentration of 3000PPM (0.3%), it is ready to use. Solution activated from 25% Sodium Chlorite and 4% Hydrochloric Acid by the gasification method.
Agualab CDS 1 litre in glass container
High quality Agualab Chlorine Dioxide (CDS) in 1 litre format, obtained through a gasification process in glass reactors. This method allows the CDS to be produced without coming into contact with the outside world and to be vacuum-packed in order to preserve all its properties. In this way we have in our hands a product without residues or flavours.
Buying Agualab CDS 1 litre, you will obtain a high quality product especially indicated to effectively combat bacteria, viruses, mites, parasites, algae, fungi and other pathogens. It acts both in water and in the biological film that forms in pipes and water and refrigeration ducts.
We are official distributors of the Agualab brand. The excellence in the use of glass reactors to obtain CDS from the laboratory guarantees a product of the highest quality.
Cleaner that complies with art. 95 of EU Regulation 528/2012 on biocides. For use exclusively for cleaning water for human and animal consumption.
Composition and content
By activating the salt with an acid we obtain CDS in gas form. In order to be able to handle and use the CDS, it is stabilised in ultra-purified water by means of glass reactors. In this way we obtain an aqueous solution of CDS at a concentration of 3000 PPM, which is 0.3%, excipients and 100% csp solvent. In other words, we only have one component, the CDS, and it does not need activation. It is ready to use.
The container is a 1 litre glass bottle, dark amber in colour to protect the CDS from ultraviolet light.
How to store CDS
For optimal conservation, 3 factors should be taken into account:
- Keep it below 11ºC (easily available in any refrigerator).
- Preserve the CDS from ultraviolet light (avoid sunlight) and heat sources.
- Always keep the bottle closed (open only to take out the necessary amount and close immediately).
The shelf life of CDS is about 4-6 months, depending on how long it is stored. Even under the best conditions, we cannot guarantee the concentration of 3000PPM beyond these months. You will find the date of manufacture and the expiry date on the label of the bottles.
Directions for use and dosage CDS
For water purification it is necessary to dilute 1 ml of CDS per litre of water to be treated. Mix well and leave it to act for at least 30 to 45 minutes.
It should be taken into account that during this time, the CDS performs its biocidal action and volatilises. In any case, you should check that its concentration in the water does not exceed 1.5 PPM. For this we have some test strips in the Packaging section.
The quantity to be used and the action time will always depend on the quality of the water to be treated. In some cases, water quality tests may be recommended.
Additional information CDS
- If the ambient temperature is above 10º do not open the product until it has been refrigerated for at least 2 hours. This will avoid loss of concentration due to volatilisation of the gas. The higher the temperature, the faster the dissociation rate with water and the higher the gas volatilisation.
- Do not leave the product open without the cap to avoid gas losses. In case of product release, the area should be well ventilated, as CDS is toxic by inhalation.
- Avoid contact with eyes, wounds and mucous membranes, causes severe eye irritation (Eye Irrit. 2: H319).
CDS is only shipped on Mondays, Tuesdays, Wednesdays and now also on Thursdays. Although they are packaged with a refrigeration system, this prevents your shipment from being held in the transport offices over the weekend and ensures that it arrives as quickly as possible in optimum condition.