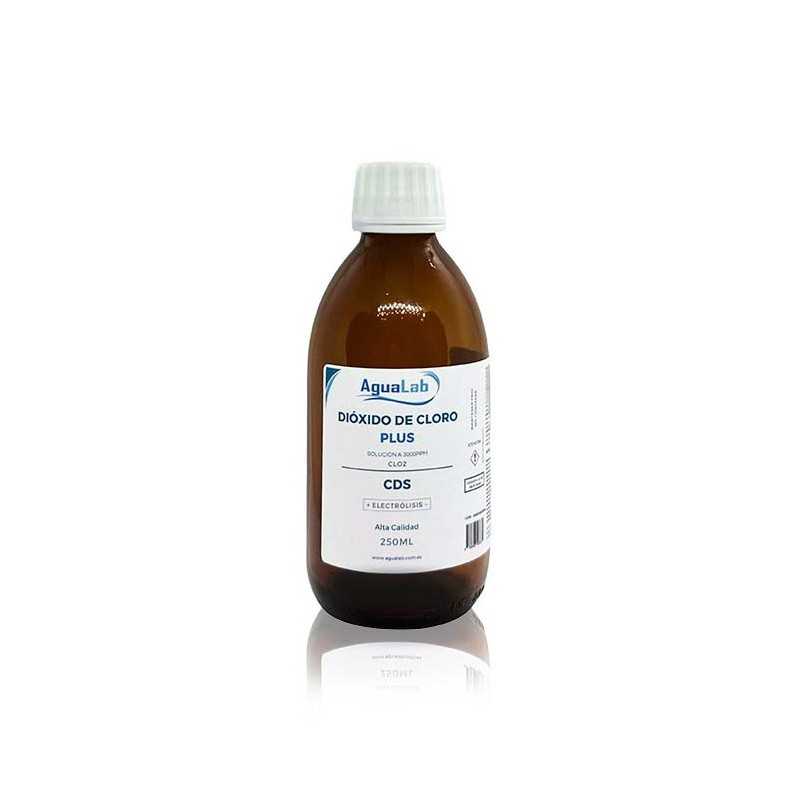  
Chlorine Dioxide PLUS Agualab 250ml Glass (C.D.S. - C.D.I.)
The purest Chlorine Dioxide is now on sale. The result of two years of intensive work to achieve the quality desired by and for everyone.

Without residues or flavours, produced by electrolysis and gasification without acid. It is obtained in glass reactors without contact with the outside world and is vacuum packed to preserve all its properties. The innovative production of CDS with high quality Agualab electrodes avoids heavy metal contamination.

Now with free syringe.
Potable water whenever and wherever it is needed!


Agualab Chlorine Dioxide PLUS is manufactured by the method of electrolysis and gasification without acid, free of residues and free of flavours, achieving the best quality.

3000 PPM Approximate +-.
IMPORTANT NOTE:
The result of two years of intensive work to achieve the quality desired by and for all is now available. The result is this product, of a quality and purity that is hard to beat.
In the Agualab laboratories, we have worked tirelessly to find the best electrode to activate the Chlorine Dioxide without leaving traces of residues in the product. A multitude of analyses have been carried out to achieve a clean, pure Chlorine Dioxide without any residue or heavy metal. Another of the objectives has also been to maintain a neutral pH, achieving smoothness in the taste and at the moment of making the water drinkable.
Chlorine Dioxide (CDS), is only shipped on Mondays, Tuesdays, Wednesdays and now also on Thursdays, as these are shipped in thermal containers with ice to avoid heat shocks so that your shipment does not stay in the transport offices over the weekend and arrives as quickly as possible directly from the laboratory to your refrigerator. Refrigerate before opening if the product arrives at room temperature. Keep refrigerated with care that it does not freeze. The bag inside the order is reusable ice that can be refrozen if needed for transport.