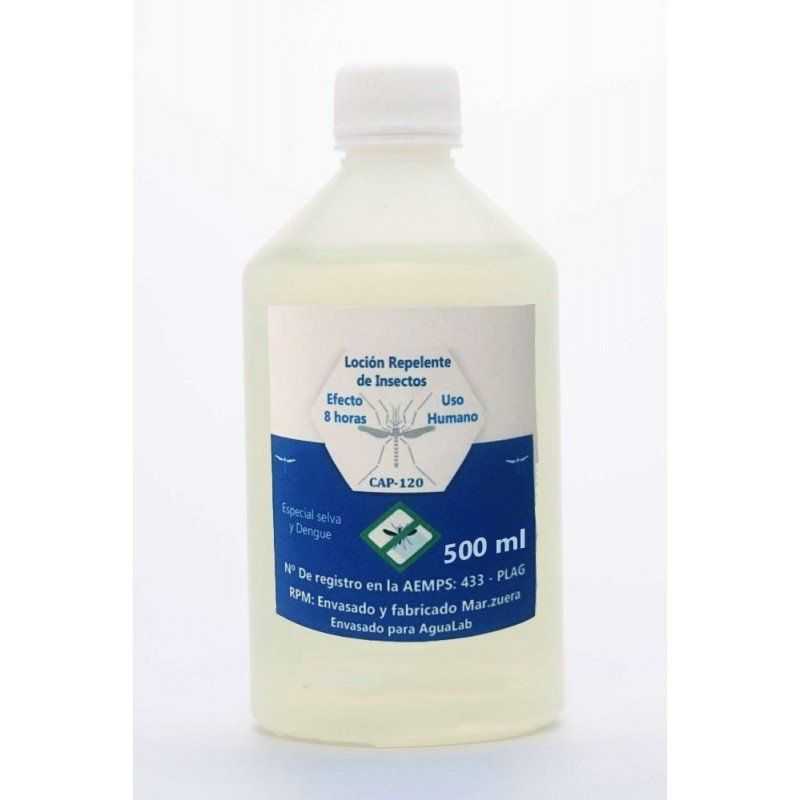  
Insect repellent Agualab 500 ml
Insect Repellent Lotion 500 ml

Insect repellent lotion 500ml, high resistance and durability, up to 8 hours, even in the most extreme temperatures it will act effectively against all kinds of insects, preventing contagion by bites, piperonyl has been used for years in pest control both in plants as in animals, homes, public centers and in products of direct application in humans as insect repellents and to control pests, pe lice. The combination of the repellent action of pyrethrins and the lethal and anti-detoxifying action of piperonyl butoxide has demonstrated its effectiveness against the attack of insects, especially mosquitoes, with almost no adverse side effects on humans, pets and the environment.
Insect repellent, Cad 120 by AguaLab. 500 ml

Our CAD120 insect repellent provides efficient protection for mosquito bites lasting more than 8 hours. Our insect repellent works in the most extreme weather conditions. It should only be used during the stay in areas at high risk of malaria and yellow fever.

Repellent of insects like the tiger mosquito and the wasps in Spray.

CAD-120 AguaLab Insect Repellent 500 Ml Spray is an effective and simple solution in spray format that will prevent annoying mosquito bites from occurring among other insects. This is achieved thanks to its highly effective composition, leaving us with a protection of up to 8 hours and a low level of toxicity. We can use it in both adults and children over 2 years old. This product will be ideal for you on a trip, since it will last between 15 and 20 days. It has a pleasant smell and does not oil the skin.
What is it indicated for?

It is indicated for the prevention of mosquito bites.
How does it apply?

Apply to the skin after spraying the product 10 centimeters away from the skin.

Recommendation:

We recommend repeating the application every 8 hours. You should avoid the areas around the eyes, mucosa, sensitive or diseased areas of the skin and wounds. This lotion meets all the quality requirements being a product of the pharmaceutical range. Keep in a cool and dry environment. Keep out of the reach of children.
INSTRUCTIONS FOR USE AND CAUTION



Frequent and repeated application is unnecessary. Do not apply to children's hands. Wash the area of ​​the body where the product has been applied properly, once the protection time has expired. Wash your hands correctly after applying the product. Do not spray directly on the face, but apply the product with your hands. Do not use in children under two years of age, if necessary, consult the pediatrician in advance. Warnings: Do not inhale. Avoid contact with eyes, mucosa, sensitive or diseased areas of the skin and wounds. In case of contact with eyes, wash immediately with plenty of water. (The product is not classified as irritating to the skin or eyes, but due to its composition it can cause discomfort in the eyes or damaged skin). If swallowed, seek medical advice immediately and show the label or container. In case of intoxication or accidental ingestion, call the Service -

Toxicological Information Physician. Tel. 915 620 420.

Keep out of the reach of children and away from food and drinks. Keep container tightly closed. Highly flammable liquid and vapor. Harmful to aquatic life with long lasting effects. Keep away from heat, hot surfaces, sparks, open flames and any other source of ignition. No Smoking. In order to avoid risks to people and the environment, follow the instructions for use.

Ingredients:

Pyrethrum Extract ................... 0'52% Lot: 190704

Ethyl Alcohol ........................... 98'97% Expiration: 07-2022