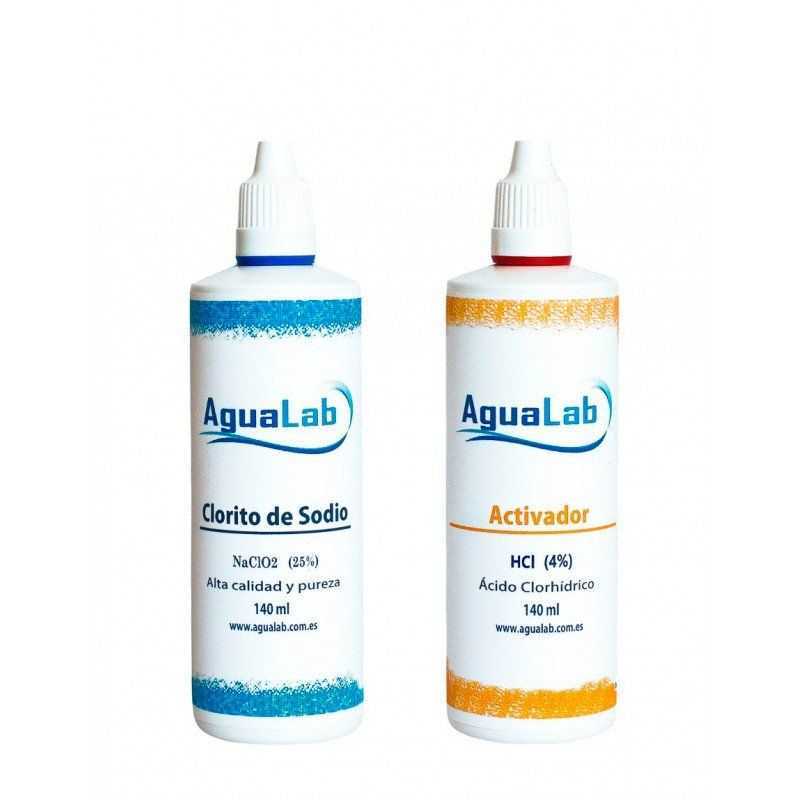  
Kit Agualab Sodium Chlorite 25% + Hydrochloric Acid Activator 4% (140 ml)
Main component (Sodium Chlorite) to activate with (Hcl), to obtain a biocide. Chlorine dioxide. For the exclusive use of the purification and disinfection of water for human or animal consumption. Component included in art. 95 of Regulation EU 528/2012 of biocides.
Sodium Chlorite + Activator KIT (140ml)
If you are looking to leave the surfaces of your home or office completely disinfected, you are in the right place. The sodium chlorite + activator kit (140ml) that we present meets all your grooming needs.
NaCIO2 or Sodium Chlorite is a chemical compound whose main action is the generation of chlorine dioxide for the bleaching and dismantling of paper and textiles. Likewise, this compound is used to obtain drinking water. Unlike other chemicals, it does not generate compounds such as chloroform, bromodichloromethane, dibromochloromethane, and bromoform when in contact with water pollutants.
The main component of this kit is sodium chlorite to activate with hydrochloric acid (Hcl), in this way, a biocide will be obtained that will be exclusively used for the purification and disinfection of waters suitable for human or animal consumption. This promotion consists of 2 packages, one of sodium chlorite and a 140ml activator.
It should be noted that with the correct use of this kit, water can be made drinkable in caravans, yachts / boats, trips, hotels, outdoors or hiking. At the same time, in addition to disinfecting the waters, it allows to thoroughly clean different surfaces such as the kitchen and bathroom, refrigerators, cutting boards, toothbrushes, drinking bottles, humidifiers or dirty clothes, air ducts and HVAC / R. It is also a safe means of grooming cages, stables, and animal feeders.
Conservation
The sodium chlorite + activator kit (140ml) should be kept in a dry, well-closed place, placed in an upright position and out of the reach of children. If the solution is activated, it can be kept in a dark and cold place (approximately 11º) and will last between 6 and 9 months. If, on the other hand, it is not activated, it can be protected without refrigeration for about 2 or 5 years.
How to use
For surface disinfection, 5 ml of Sodium Chlorite NaClO2 solution (25%) and 5 ml of HCL Activator (4%) must be mixed in equal parts, in a clean and dry glass (cannot be made of metallic material). , in 500 ml of distilled water and stir until obtaining a golden color. Apply this dilution on the surfaces using a cloth or disperser, leave it to act for no less than 5 min and, after rinsing, remove with plenty of water. Always do it in areas with sufficient ventilation.
Authorization
This product from Agualab is certified by the Robert Koch Institut with up to 99.9% effectiveness against germs (effectiveness A-D level). Remember that sodium chlorite, or NaClo2, is authorized for the disinfection of drinking water, general disinfection, veterinary hygiene, human and animal nutrition.
When obtaining our product remember:
- The Kit of sodium chlorite + activator (140ml) is of very high quality and purity for the indicated treatment.
- It has a screw cap and a red and blue seal plus a drip nozzle.
- The 140 ml container is made of opaque material. This to preserve all its quality and optimal conservation.
- It should always be borne in mind that exposing the contents to ultraviolet light deteriorates the product.
Component included in art. 95 of Regulation EU 528/2012 of biocides
Reviews
By
Keila G.
on 01 Oct 2020 (
Kit Agualab Sodium Chlorite 25% + Hydrochloric Acid Activator 4% (140 ml)
) :
Excelente
Aun no hemos probado el producto pero el manejo envio y recibo del mismo ha sido excelente. Profesional, muy sstisfecha con la compañia.
Report abuse