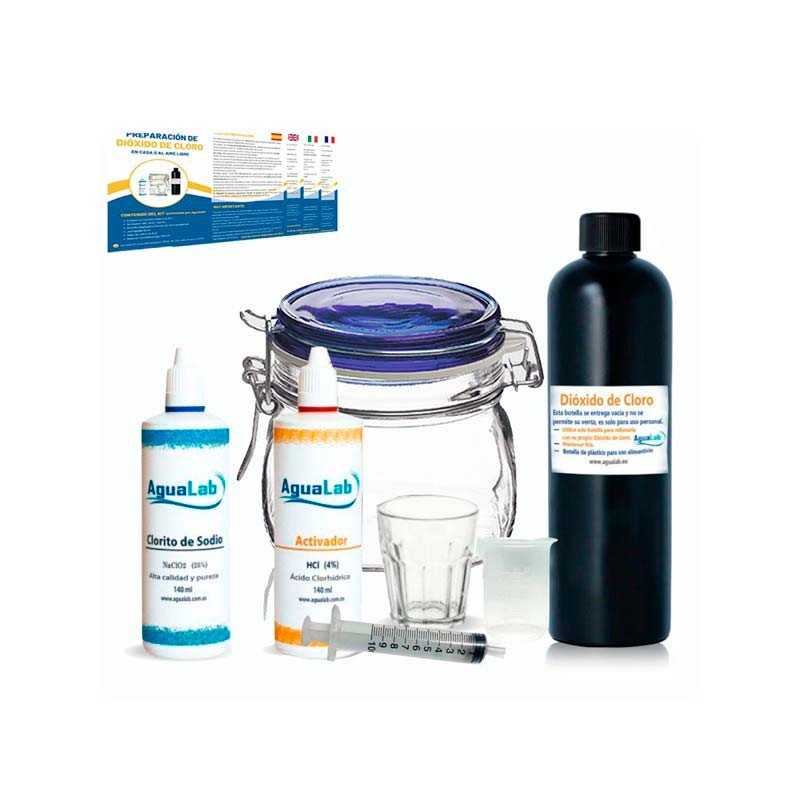  
Kit Agualab water treatment tools 1+1 Clorito Sódico al 25% + Activador Ácido Clorhídrico 4% 140 ml
Tools and 140 ml (25%) + 140 ml (4%) Prepare 600 ML of Chlorine Dioxide for purification in situ.
Tool kit consisting of everything necessary to make water potable in situ, to take away, includes (Sodium Chlorite) to activate with (Hcl), to obtain a biocide Chlorine dioxide. For the exclusive use of the purification and disinfection of water for human or animal consumption. Component included in art. 95 of Regulation EU 528/2012 of biocides.
Tools KIT and Sodium Chlorite + Activator (140ml)
This revolutionary dual system will allow you to obtain drinking water wherever you are, through the use of chemical disinfection techniques for water treatment, it is widely recommended for human and animal consumption.
This innovative way of purifying water guarantees you safe water consumption, especially when you are in rural settings, or go camping on the beach, or hunting and fishing, in rivers or mountains, ideal for the survival of the military personnel, for training or if you practice hiking or travel to remote areas, among other situations that may arise, if you live in rural areas or go to work where there is no water treatment, this purification kit is for you, you can Obtain completely potable water from untreated water sources such as rivers and lakes, using this easy and practical method. Even in disaster situations, where the normal water supply is interrupted.
What does the 1 + 1 Tools Chlorite Sodium 25% (140 ml) + Activator - Hydrochloric Acid 4% (140 ml) contain?
The complete kit to purify your water on site, includes 25% sodium chlorite (140 ml) plus a 4% (140) ml hydrochloric acid activator, with these components you can obtain a biocide, which is chlorine dioxide, for use exclusive of water disinfection.
It also includes a 500 ml airtight glass reactor flask, where the chemical reaction will take place and you will be able to prepare 250 ml of solution.
A 4 cl. beaker.
A 10 ml syringe to measure the components.
A special black HDPE bottle to contain the resukting Chlorine Dioxide.
A 25 ml plasctic beaker.
And a preparation manual where you will find how to prepare the solution step by step
How to use the water purification kit on site?
The minimum standard dose for human consumption is obtained by mixing three drops of 25% sodium chlorite with three other drops of the activator, in this case it is hydrochloric acid in a glass of water, for a period of one minute, after this, you will have a chemical reaction that will give rise to chlorine dioxide, or (ClO2) it consists of one chlorine atom and two oxygen atoms, it is a yellowish green gas that dissolves in water and an excellent antimicrobial, widely used in disinfecting water.
You should never, for any reason, consume this mixture, without first dissolving in water
To prepare the recommended amount, you must mix 2,5ml of sodium chlorite, with 2,5 ml of hydrochloric acid, since the capacity is 250 ml.
If you have a situation of need and it is prevailing, have a greater amount of chlorine dioxide and you can not wait 48 hours, we recommend preparing a solution of 5 ml of each, it will have a lower concentration, than if you prepare it, 2,5 ml of each per day, but you can solve the difficulty without any risk.
Why is it important to purchase a Purification Kit on site?
This product is specially created and recommended, for use in geographically special situations, such as the ones we described at the beginning, or for people who live or frequent places that, due to their remote characteristics, do not have properly treated water, with the acquisition of the water treatment kit on site, you can enjoy nature in the foreground, without running any risk regarding the consumption of the vital liquid.
It is not necessary to refer to the essential or vital aspects of water consumption, for the human being, however the water we consume must have certain characteristics, being the most important element for life, a person consumes on average two liters of water a day, hence the essential that the water we consume has a zero bacterial value, in this way we guarantee that it is suitable for human consumption, to achieve this there are different methods such as boiling, filtration or chemical disinfection, which is the option that we propose you with the in-situ water treatment kit, this option has become a trend and has more and more followers, in it the water goes through a disinfection process and a treatment for water treatment where bacteria and components that can be toxic to health.
The water is obtained from natural sources such as lakes, springs, rivers and underground wells, so the correct treatment must be applied, which eliminates bacteria and particles that can be harmful to human health.
It is not a fad, that this water treatment option is quite widespread in its use, it is due to the facilities and portability and functionality it offers, allowing it to be in transparent integration with nature and at the same time be able to take care of yourself, consuming drinking water and enjoying the most exuberant landscapes in the most remote places and in the most extreme situations, with the certainty that you will not get sick from consuming water that is not suitable for human beings.
Precautions for using the Water Treatment Kit on site.
This product should be used exclusively by adults, and always be kept out of the reach of children. In addition to following the following precautions:
- Keep tightly covered, in a not too much cool, dry place.
- Never consume, if it has not been prepared
- Do not store the Sodium Chlorite and Hydrochloric Acid cold, the low temperatures make it take longer to gasify during preparation.
- Clean the glass flask before first use.
- Purchase a replacement silicone or latex gasket for the flask, as they tend to break down.
- Take precautions in handling, it could cause sensitivity and irritation in contact with the skin.
- Preferably wear gloves.
- The product should not be inhaled.
- Avoid contact with eyes, wounds and mucosa.
You might also like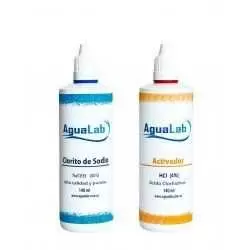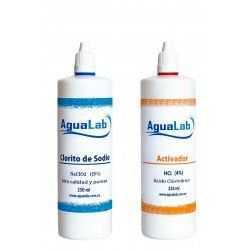 Reviews
By
Kathleen B.
on 13 Oct 2021 (
Kit Agualab water treatment tools 1+1 Clorito Sódico al 25% + Activador Ácido Clorhídrico 4% 140 ml
) :
By
Clive C.
on 21 Jun 2021 (
Kit Agualab water treatment tools 1+1 Clorito Sódico al 25% + Activador Ácido Clorhídrico 4% 140 ml
) :
Great Kit for making CDS
Living in the uk I had difficulty finding these products locally and was very pleased to have everything I needed to make CDS sent from this company. It did take a few weeks to clear customs and everything arrived well packaged. Many thanks.
Report abuse
By
Gosia W.
on 09 Jun 2021 (
Kit Agualab water treatment tools 1+1 Clorito Sódico al 25% + Activador Ácido Clorhídrico 4% 140 ml
) :
thank you
thank you for making this product available and for quick shipment. it was so easy to use and very effective! Gracias
Report abuse