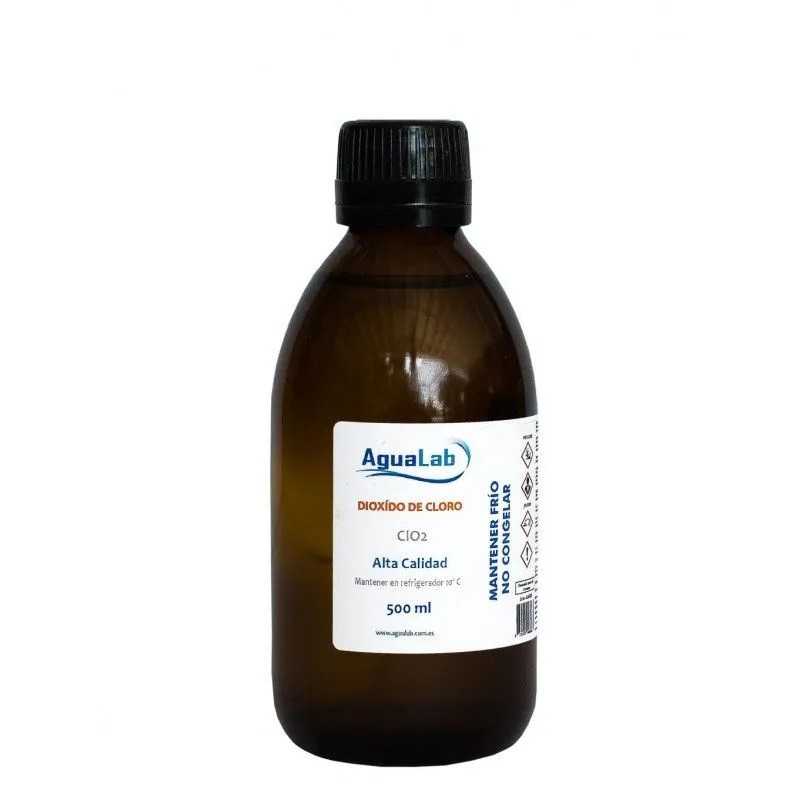  
Chlorine Dioxide in glass bottle 500 ml.
Chlorine Dioxide glass bottle 500 ml.
Immediately safe and healthy drinking water anywhere!
CHLORINE DIOXIDE five hundred ml three thousand PPM. Glass container
Chlorine Dioxide five hundred ml
Thanks to chlorine dioxide you will be able to completely clean the water you consume, suppressing viruses, bacteria, fungi, algae, parasites, mites and other harmful molecules that can affect your body. There are hundreds and hundreds of pathogens that can cause allergies, illness and discomfort in the body, but that stops with chlorine dioxide.
It is very, very different from elemental chlorine in both its chemical structure and its function, it is highly soluble in water and hence it is ideal for removing toxic agents in water. It is quite efficient for disinfection, as it breaks down phenols in drinking water.
It is commonly used in industrial applications to treat water such as food processing, cooling towers, process water, etc. In short, it is widely used as a biocide, and another use in industry is as a natural bleach.
It is twice as efficient as natural chlorine in removing pathogens present in water, such as viruses and protozoa, certain bacterial cysts such as Giardia and Cryptosporidium eggs are easily removed thanks to this magnificent liquid.
What exactly is chlorine dioxide suitable for?
It is primarily used to clean water that may be infested by pathogens. Chlorine dioxide acts against them and suppresses harmful organisms that can affect people's health.
It is also suitable for sanitising fruits such as raspberries and strawberries that can develop moulds and damage them, and can also be toxic to eat. It can be found in cleaning products and as a component in household products for the extermination of bed bugs and insects that may be abundant in the home.
Who can use chlorine dioxide?
This chemical should be used by adults, and should be kept away from children, as it should be handled properly. It is a derivative of chlorine that is less invasive and more effective against bacteria and harmful organisms, but it has handling hazards; above all it can affect children's skin.
How to use
If you purchase our 500 ml product then you should use it in the following way:
For each litre of water, 1 ml of the product is enough to clean it, it must be left to act for at least thirty minutes.
The treated water should not be consumed within this time, if possible it should be left for more than thirty minutes, the active chlorine must be reduced to a minimum of 1.5 ppm before it can be consumed.
The perfect level of chlorine in the water should be between 0.5 and 1.5 ppm for drinking water.
Depending on the type of water to be treated, the amount of product should be added or it can be reduced.
Precautions
When using the product, wear gloves, do not apply to the skin as it may cause allergies or spots on the skin.
Do not swallow or aspirate the product.
Avoid contact with eyes, wounds and mucous membranes.
Keep at room temperature.
Chlorine Dioxide is only shipped every Monday, Tuesday, Wednesday and now also every Thursday, as it is shipped in thermo containers with ice and we cannot run the risk of it being left in the transport offices over the weekend, as this would damage the product in the hot season.
Reviews
By
Ed E.
on 13 Oct 2021 (
Chlorine Dioxide in glass bottle 500 ml.
) :